---
SYMPOSIUM
Designing Transformation: Jews and Cultural Identity in Central European Modernism, University of Applied Arts, Vienna, May 16-17, 2019
Rebecca Houze will be presenting the paper, "Cultural Exclusion and Creative Transformation: Anna Lesznai's Embroidery Design," at this international symposium, organized by Dr. Elana Shapira, University of Applied Arts, Vienna.
Invitation_International Symposium_Designing_Transformation_University of Applied Arts Vienna_May 16-17, 2019
---
Photographic Recall: Italian Rationalist Architecture in Contemporary German Art
at the University Museum of the University at Buffalo, NY (SUNY). It will be on view through May 12.It is accompanied by the 
panel discussion
Staging Fascism: Contemporary Artistic Practice and Rationalist Urban Space 
on April 1, 5:30-8pm at the Anderson Gallery, 1 Martha Jackson Place, Buffalo, NY.
---
Hosted by the Institute for the Study of the Ancient World
Please join the Historians of German, Scandinavian, and Central European Art and Architecture for a curator-led tour of the exhibition Hymn to Apollo: The Ancient World and the Ballets Russes.
Sunday, April 28, 2019
11am
Institute for the Study of the Ancient World
15 East 84th Street
New York, NY 10028
---
The Bauhaus and Harvard
February 8 – July 28, 2019
Harvard Art Museums
The Bauhaus and Harvard — mounted in conjunction with the 100th anniversary of the founding of the Bauhaus in Weimar, Germany — presents nearly 200 works by 74 artists, drawn almost entirely from the Busch-Reisinger Museum's extensive Bauhaus collection. Founded in 1919 and closed just 14 years later, the Bauhaus was the 20th century's most influential school of art, architecture, and design. Harvard University played host to the first Bauhaus exhibition in the United States in 1930 and went on to become an unofficial center for the Bauhaus in America when founding director Walter Gropius joined Harvard's department of architecture in 1937. Today the Busch-Reisinger Museum houses the largest Bauhaus collection outside Germany, initiated and assembled through the efforts of Gropius and many former teachers and students who emigrated from Nazi Germany, including Anni and Josef Albers, Herbert Bayer, Lyonel Feininger, and László Moholy-Nagy.
The exhibition features rarely seen student exercises, iconic design objects, photography, textiles, typography, paintings, and archival materials. It explores the school's pioneering approach to art education, the ways its workshops sought to revolutionize the experience of everyday life, the widespread influence of Bauhaus instruction in America, and Harvard's own Graduate Center (1950), the first modernist building complex on campus, designed by Gropius's firm The Architects Collaborative. A complementary exhibition installed in an adjacent gallery — Hans Arp's Constellations II — features one of the site-specific works commissioned for the Graduate Center.
Symposium:
Bauhaus 100: Object Lessons from a Historic Collection
March 29, 2019
10am – 5pm
Harvard Art Museums
Founded in 1919 in Weimar, Germany, the Bauhaus was the 20th century's most influential school of art, architecture, and design. A century later, we continue to learn from the rich trove of student exercises, iconic design objects, photographs, textiles, graphic design, paintings, and archival materials in the Busch-Reisinger Museum's extensive Bauhaus collection. Established after World War II with the aid of Bauhaus founder and Harvard professor Walter Gropius, the collection is the largest of its kind outside Germany. The symposium will feature new research on Bauhaus art and artists in Harvard collections. This symposium coincides with the exhibition TheBauhaus and Harvard, on view at the Harvard Art Museums from February 8 through July 28, 2019.
Free admission, but seating is limited.
For more information, including a list of speakers, please visit: https://www.harvardartmuseums.org/visit/calendar/bauhaus-100-object-lessons-from-a-historic-collection
---
With Child: Otto Dix/Carmen Winant
September 21-December 15, 2019
Worcester Art Museum
Centered on WAM's recent purchase of Otto Dix's provocative painting, The Pregnant Woman (1931), the exhibition, With Child, will explore the subject of pregnancy and birth in Dix's works. "The Pregnant Woman" (1931) has touched visitors in powerful ways, eliciting varied responses to a universal theme. This exhibition will be the first internationally to showcase the German artist's works on this theme, along with a painting from the same model by one of his master students, Gussy Hippold-Ahnert, as well as Dix's Pregnant Woman (1966), a portrait of his Dresden daughter, Katharina König, and his last nude painting. With Child will explore Dix's stylistic and personal changes in his treatment of this subject over his lifetime, and associated programming will reflect on women's social, political, and medical conditions during the Weimar Republic (1918-1933), highlighting issues that are still relevant. This exhibition also will feature a commissioned work by contemporary artist Carmen Winant. Inspired by The Pregnant Woman, Winant's immersive, multi-media piece, Ha Hoo…Ha Ha Hoo, brings a contemporary woman artist's voice to this universal topic.
---
Romantic Prints on the Move 
February 1-2, 2019
Organized by Cordula Grewe (Associate Professor of Art History, Indiana University Bloomington) and Catriona MacLeod (Edmund J. and Louise W. Kahn Term Professor of German, University of Pennsylvania)
For REGISTRATION (free but kindly requested), announcements and updates go to: https://www.library.upenn.edu/about/events/romantic-prints-on-the-move
Romantic Prints on the Move Program
---
"Visualization and the Holocaust: Analyzing Space and Place with Digital Methods and Geographical, Textual, and Visual Sources" organized by ouPaul Jaskot to be held at Duke University's Nasher Museum of Art.
January 17-18, 2019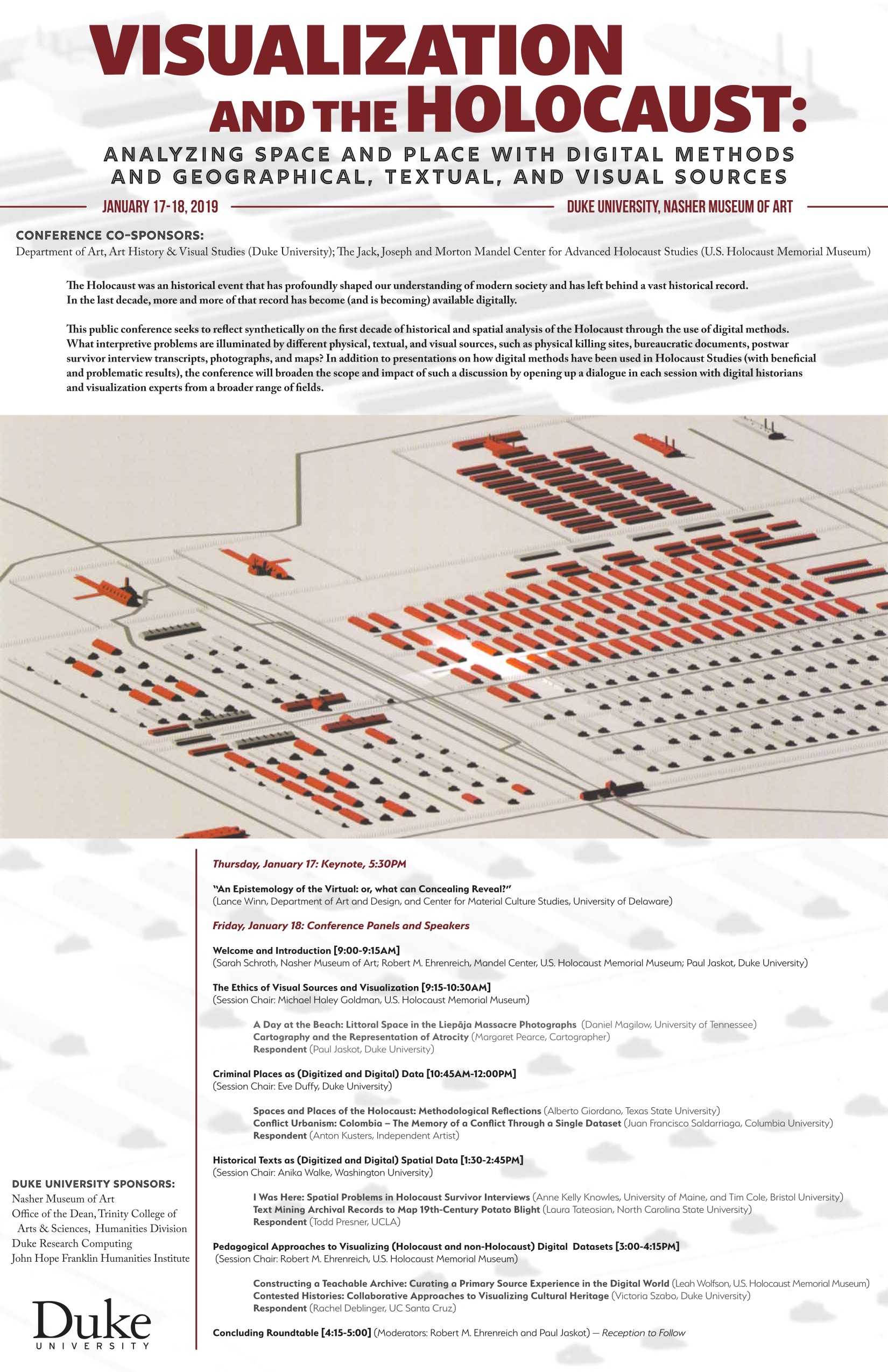 HolocaustConference_Duke.Jan 2019
---
Beyond Center and Periphery. New approaches to Bohumil Kubišta and Central European Art around 1910
10–11 December 2018
Institute of Art History Faculty of Arts
Charles University Prague, Celetná 20 room 415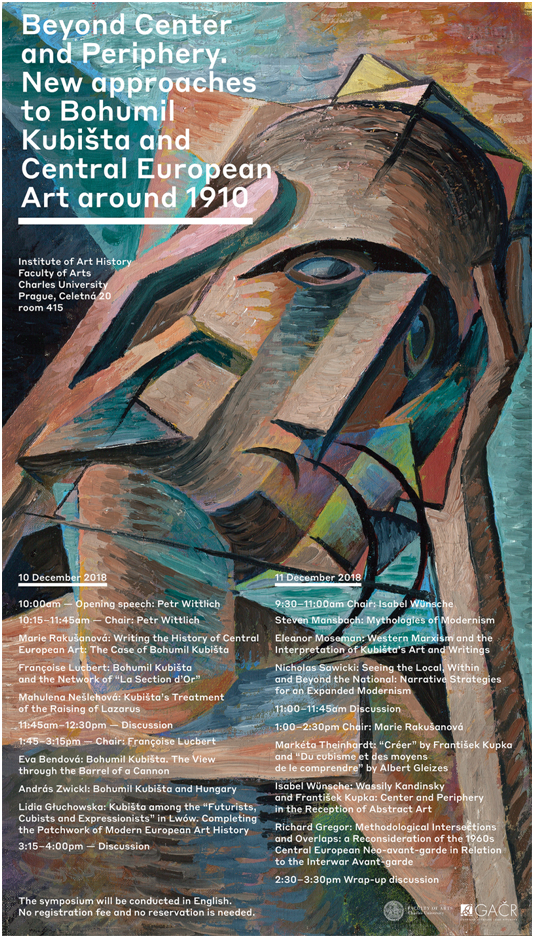 Ricki Long organized a panel: German and Soviet Interchange in the Late 20s and Early 30s which was the second part of a larger series, Visual Culture and Left Politics between the Wars.  Participants in German and Soviet Interchange included:
Tim Benson- Moderator; Oliver Botar – Commentator.
Individual papers and presenters: Dara Kiese, "Hannes Meyer's Middle Path: Bauhaus and Soviet Functionalism
Katerina Romenank, "In Service of the Regime: Photomontage in Soviet and Nazi Periodicals of the 1930s,"
Rose-Carol Washton Long, "Dangerous portraits? Lotte Jacobi's Photos of Tajikistan and Uzbekistan Women."
---
JOYCE TSAI: LÁSZLÓ MOHOLY-NAGY: PAINTING AFTER PHOTOGRAPHY
September 27, 2018, 6:30 pm
The University of Maryland Center for Art and Knowledge at The Phillips Collection
Joyce Tsai discusses her book László Moholy-Nagy: Painting after Photography, in conversation with Klaus Ottmann, Deputy Director of Curatorial and Academic Affairs at The Phillips Collection. This provocative book examines crucial philosophical questions László Moholy-Nagy explored in theory and practice throughout his career. Why paint in a photographic age? Why work by hand when technology holds so much promise? The stakes of painting, or not painting, were tied to much larger considerations of the ways art, life, and modernity were linked for Moholy and his avant-garde peers. Joyce Tsai's close analysis reveals how Moholy's experience in exile led to his attempt to recuperate painting, not merely as an artistic medium but as the space where the trace of human touch might survive the catastrophes of war. László Moholy-Nagy: Painting after Photography will significantly reshape our view of the artist's oeuvre, providing a new understanding of cultural modernism and the avant-garde.
http://www.phillipscollection.org/events/2018-09-27-creative-voices-dc
---
WHAT IS TO BE DONE?
DISCUSSIONS IN RUSSIAN ART THEORY AND CRITICISM I
6th Graduate Workshop of the Russian Art & Culture Group
Jacobs University Bremen, Campus Ring 1, 28759 Bremen, Lab 3
Attendance Fee: € 10 Working language: English
The sixth graduate workshop of the Russian Art and Culture Group will focus on main tendencies in Russian art theory of the 18th, 19th and early 20th centuries. Therefore, responses to the question What Is to Be Done? (Что делать?) in academic circles as well as by art critics, writers, impresarios, and other members of the Russian intelligentsia shall be explored.