---
With Child: Otto Dix/Carmen Winant
September 21-December 15, 2019
Worcester Art Museum
Centered on WAM's recent purchase of Otto Dix's provocative painting, The Pregnant Woman (1931), the exhibition, With Child, will explore the subject of pregnancy and birth in Dix's works. "The Pregnant Woman" (1931) has touched visitors in powerful ways, eliciting varied responses to a universal theme. This exhibition will be the first internationally to showcase the German artist's works on this theme, along with a painting from the same model by one of his master students, Gussy Hippold-Ahnert, as well as Dix's Pregnant Woman (1966), a portrait of his Dresden daughter, Katharina König, and his last nude painting. With Child will explore Dix's stylistic and personal changes in his treatment of this subject over his lifetime, and associated programming will reflect on women's social, political, and medical conditions during the Weimar Republic (1918-1933), highlighting issues that are still relevant. This exhibition also will feature a commissioned work by contemporary artist Carmen Winant. Inspired by The Pregnant Woman, Winant's immersive, multi-media piece, Ha Hoo…Ha Ha Hoo, brings a contemporary woman artist's voice to this universal topic.
---
Romantic Prints on the Move 
February 1-2, 2019
Organized by Cordula Grewe (Associate Professor of Art History, Indiana University Bloomington) and Catriona MacLeod (Edmund J. and Louise W. Kahn Term Professor of German, University of Pennsylvania)
For REGISTRATION (free but kindly requested), announcements and updates go to: https://www.library.upenn.edu/about/events/romantic-prints-on-the-move
Romantic Prints on the Move Program
---
"Visualization and the Holocaust: Analyzing Space and Place with Digital Methods and Geographical, Textual, and Visual Sources" organized by ouPaul Jaskot to be held at Duke University's Nasher Museum of Art.
January 17-18, 2019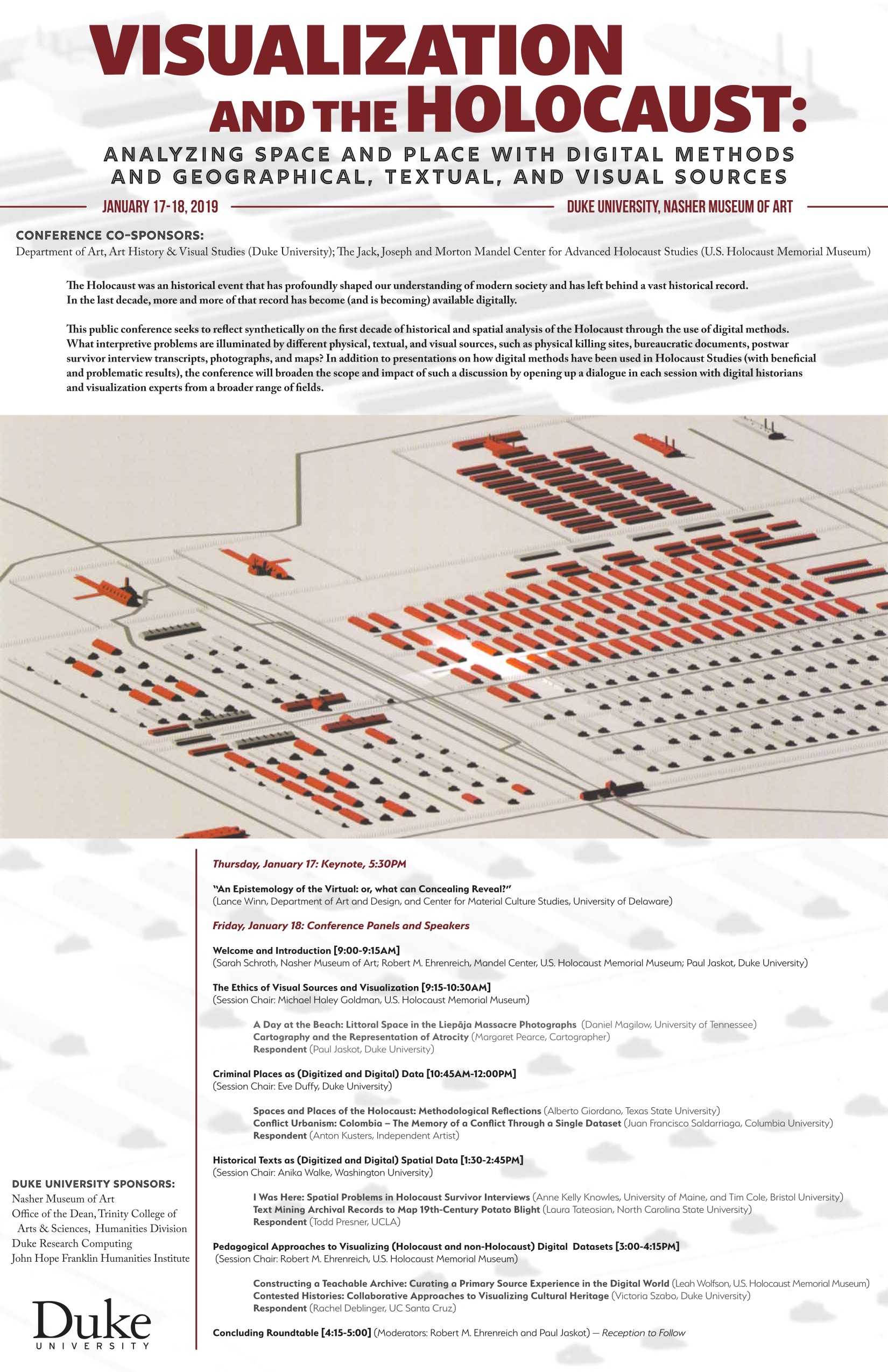 HolocaustConference_Duke.Jan 2019
---
Beyond Center and Periphery. New approaches to Bohumil Kubišta and Central European Art around 1910
10–11 December 2018
Institute of Art History Faculty of Arts
Charles University Prague, Celetná 20 room 415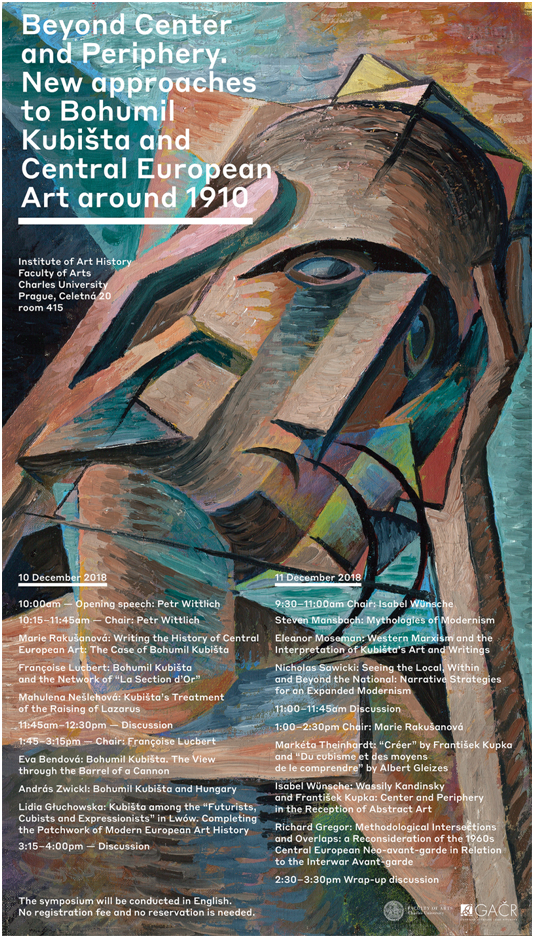 Ricki Long organized a panel: German and Soviet Interchange in the Late 20s and Early 30s which was the second part of a larger series, Visual Culture and Left Politics between the Wars.  Participants in German and Soviet Interchange included:
Tim Benson- Moderator; Oliver Botar – Commentator.
Individual papers and presenters: Dara Kiese, "Hannes Meyer's Middle Path: Bauhaus and Soviet Functionalism
Katerina Romenank, "In Service of the Regime: Photomontage in Soviet and Nazi Periodicals of the 1930s,"
Rose-Carol Washton Long, "Dangerous portraits? Lotte Jacobi's Photos of Tajikistan and Uzbekistan Women."
---
JOYCE TSAI: LÁSZLÓ MOHOLY-NAGY: PAINTING AFTER PHOTOGRAPHY
September 27, 2018, 6:30 pm
The University of Maryland Center for Art and Knowledge at The Phillips Collection
Joyce Tsai discusses her book László Moholy-Nagy: Painting after Photography, in conversation with Klaus Ottmann, Deputy Director of Curatorial and Academic Affairs at The Phillips Collection. This provocative book examines crucial philosophical questions László Moholy-Nagy explored in theory and practice throughout his career. Why paint in a photographic age? Why work by hand when technology holds so much promise? The stakes of painting, or not painting, were tied to much larger considerations of the ways art, life, and modernity were linked for Moholy and his avant-garde peers. Joyce Tsai's close analysis reveals how Moholy's experience in exile led to his attempt to recuperate painting, not merely as an artistic medium but as the space where the trace of human touch might survive the catastrophes of war. László Moholy-Nagy: Painting after Photography will significantly reshape our view of the artist's oeuvre, providing a new understanding of cultural modernism and the avant-garde.
http://www.phillipscollection.org/events/2018-09-27-creative-voices-dc
---
WHAT IS TO BE DONE?
DISCUSSIONS IN RUSSIAN ART THEORY AND CRITICISM I
6th Graduate Workshop of the Russian Art & Culture Group
Jacobs University Bremen, Campus Ring 1, 28759 Bremen, Lab 3
Attendance Fee: € 10 Working language: English
The sixth graduate workshop of the Russian Art and Culture Group will focus on main tendencies in Russian art theory of the 18th, 19th and early 20th centuries. Therefore, responses to the question What Is to Be Done? (Что делать?) in academic circles as well as by art critics, writers, impresarios, and other members of the Russian intelligentsia shall be explored.